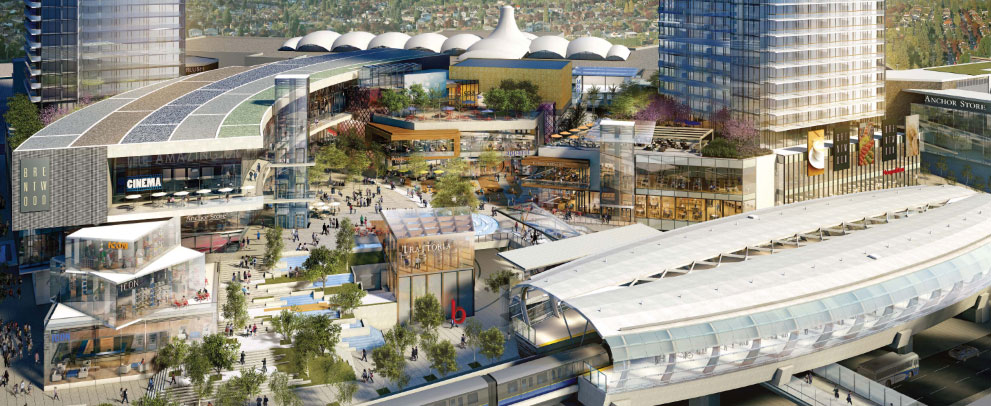 Who can attend?
Attendance is limited to the rental applicant(s) and one additional guest for a maximum of four people. Pets and guests under 18 years old are not permitted on the construction site, but are welcome in the Presentation Centre under supervision. Dogs must be leashed at all times. We recommend all potential suite occupants to attend as there is limited opportunity to visit a second time.
Where do I check-in for my appointment?
Please check in at The Amazing Brentwood Presentation Centre located at
#301 - 4567 Lougheed Hwy,
Burnaby, BC, V5C 3Z6.
A member of our team will greet you at the door at your scheduled appointment time.
How do I get there?
We recommend taking the SkyTrain to Brentwood Town Centre Station as it is directly connected to The Amazing Brentwood. The SkyTrain platform is also the best viewpoint for the impressive construction progress underway.
If you have a vehicle, you may park anywhere in the Brentwood Town Centre parking lot or in the dedicated parking area located to the left of the Presentation Centre.
What if I am unable to attend my appointment in person?
Please email the rental team at rent@theamazingbrentwood.com to make alternative arrangements if you are unable to attend your scheduled appointment.
How long is an appointment?
Each visit is approximately 45 minutes from the time you arrive at the Presentation Centre, followed by a visit to the display suites in Tower ONE.
What should I bring to my appointment?
Mandatory Items:
Government Issued Photo ID to check-in for your appointment
Proof of income & funds (hardcopy or digital)
Optional Items to Bring:
Your phone to take pictures
A measuring tape for room measurements
How do I submit an application?
Click here to apply. All suite occupants aged 19 years or older must submit an application.
How are suites assigned?
Suites are available on a first-come, first-served basis. To secure your preferred home, we recommend submitting an application, selecting your suite, providing the required deposits and completing your tenancy agreement as soon as possible.
*Security and pet deposits are each calculated at half a months rent.
How do I pay my deposits?
There are a three methods of payment:
By Debit: Prior to your appointment, please ensure that your daily allowable limit is temporarily increased by calling the number on the back of your debit card to request a "daily debit limit increase".
By Bank Money Order: A Money Order is guaranteed and secured funds obtained directly from your financial institution. Money Orders should be addressed to "Shape Property Management Corp ITF Shape Brentwood LP and Brentwood Towncentre LP". *Instruction will be provided by the Rental Team*
Online Payment Portal: This will be accepted only if you are attending an appointment in person.
Cash, personal cheques, and credit card payments are not accepted.
The deposit will need to be paid prior to completing the tenancy agreement and securing a suite.
What is the pet policy?
We allow one pet per suite on designated floors. Pets cannot exceed 35 lbs. If you have a pet, you will be required to complete a Pet Addendum and provide a pet deposit at the time you sign your tenancy agreement.
What about parking?
Parking is limited and based on availability. Parking will be available from $150 per month. Please click here to review transportation options at The Amazing Brentwood.
What about storage?
Storage lockers are available from $50 per month. For a limited time, you will receive six months of free storage when you sign your lease.
How is the lease documentation completed?
All lease documentation will be completed online and digitally signed.
When will the lease term start?
Units are available to move into immediately.
What lease terms are available?
The minimum lease term is 12 months, meaning if you begin your tenancy on October 1, 2019, your term will end on September 30, 2020 and will automatically continue on a month-to-month basis.
What is included in the rent?
Bosch appliances, including side-by-side front-loading washer and dryer
Access to 15,000+ square feet of private amenities, including a state-of-the-art fitness facility
Professional management
Concierge
24-hour security
6 months free storage

*ask for details

1 year free internet and cable with TELUS

*ask for details

Water (hot/cold)
How do I schedule my appointment?
You will select a date and time for your appointment by clicking on the link provided. Only one appointment per household may be scheduled. We ask that any cancellations or rescheduling is done at least 24 hours in advance of the appointment through the online scheduler.
Additional questions
Our team is here to help make the process of choosing your new home as smooth as possible. Call, text, email or bring your questions to your appointment. We're always happy to help.