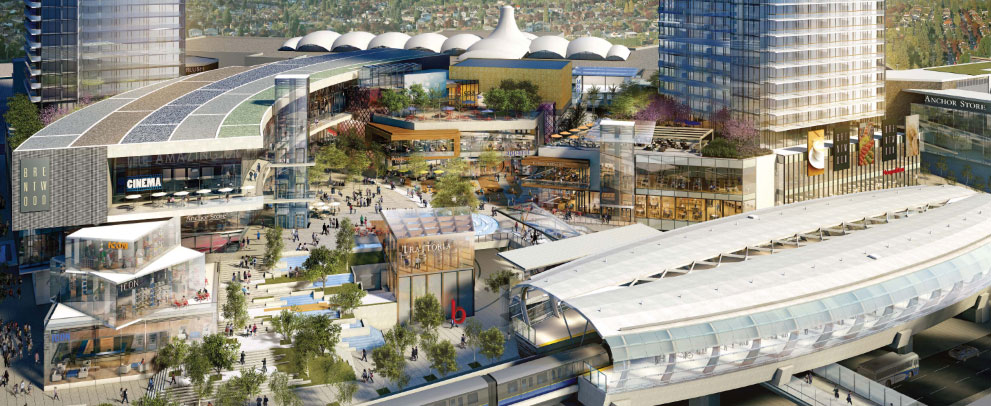 What is purpose-built rental?
Purpose-built rental is designed and built specifically as long-term rental accommodation. It is different from other types of rentals, such as condominiums or a strata, which may be available in the rental pool one year and not the next. The Amazing Brentwood Tower ONE purpose-built rental homes (Floors 5 – 32), are professionally owned and managed by SHAPE. Understanding the benefits of purpose-built rental housing will help you decide if it's the right choice for your next home.
Security
Purpose-built rental homes come with the security and stability of knowing your suite will not be taken off the market by your landlord unexpectedly. These homes will not be sold, removed from the rental market or taken over by the landlord for their own use.
Affordability
Unlike a home you own, there are no strata fees or additional taxes to be paid. In addition, costly repairs and building wear and tear are not the responsibility of the tenant.
Peace-of-mind
Residents can be sure that thorough screening of all tenants is conducted, ensuring safety and security at the building and fostering a sense of community among like-minded residents. Our on-site management team and Concierge staff provide dedicated service and attention with consistency in building operations.
How do I find current availability and pricing?
Availability changes each month as new units come available. For current availability and pricing, please contact us directly at rent@theamazingbrentwood.com to find out if we have options that are within your timeline, needs and budget.
How are units assigned?
Available units are assigned to approved applicants on a first-come, first-served basis. To secure your unit, we recommend you submit an application for pre-approval on our website. Once approved, you will have the opportunity to select an available unit and/or visit the building to view the available or similar unit. To secure the home, we recommend providing the required deposits and completing your tenancy agreement as soon as possible.
*Security and Pet deposits are each calculated at a half month's rent
Please find application guidelines here.
How do I schedule an appointment?
Available appointment times can be found on our website by clicking "SCHEDULE APPOINTMENT". You will have the option to Take a Virtual Tour or Schedule In-Person Viewing.
Only one appointment per household may be scheduled.
Who can attend?
To allow for physical distancing, in-person showings are limited to the intended occupants only.
Where do I check-in for my appointment?
Please arrive at The Amazing Brentwood Tower ONE at your scheduled appointment time and dial 1000 at the enterphone panel. A member of our team will greet you in the lobby.
The Amazing Brentwood Tower ONE
1820 Willingdon Avenue
Burnaby, BC, V5C 0K5
How do I get there?
Transit:
Brentwood Town Centre SkyTrain Station is directly connected to The Amazing Brentwood.
Vehicle:
If you have a vehicle, you may park anywhere in The Amazing Brentwood surface parking lot or use the vehicle ramp off of Willingdon at Halifax to access covered paid hourly parking.
What if I am unable to attend my appointment in person?
We are happy to meet with you virtually. Please contact us at rent@theamazingbrentwood.com to schedule a virtual showing. Applications, lease documentation and security deposit payments can be easily executed through our Online Resident Portal.
How do I pay my deposits?
There are alternate methods of payment:
Online Payment Portal: Payments can be setup easily online in order to pay your deposits.
By Debit: Prior to your appointment, please ensure that your daily allowable limit is temporarily increased by calling the number on the back of your debit card to request a "daily debit limit increase".
By Bank Money Order: A Money Order is guaranteed and secured funds obtained directly from your financial institution. Money Orders should be addressed to "Shape Property Management Corp ITF Shape Brentwood LP and Brentwood Towncentre LP".
International Wire Transfer: Instruction will be provided by the Rental Team
Cash, personal cheques, and credit card payments are not accepted.
The Security Deposit will need to be paid prior to completing the Tenancy Agreement and securing a unit.
What is the pet policy?
We allow one dog or two cats per suite on designated pet-friendly floors. Pets cannot exceed 35 lbs. If you have a pet, you will be required to complete a Pet Addendum and provide a pet deposit at the time you sign your tenancy agreement.
What about parking?
Parking is on a first come, first served basis and is available from $125 per month on level P3.
What about storage?
Storage lockers are complimentary for new tenants for six months and charged at $50 a month thereafter.
How is the lease documentation completed?
All lease documentation will be completed online and digitally signed by all parties.
When will the lease term start?
The lease term will start on the first of the month. If the unit is ready at an earlier date, tenants may be provided the opportunity to move in earlier.
What lease terms are available?
The minimum lease term is 12 months, meaning if you begin your tenancy on December 1, your term will end on November 30th the following year and will automatically continue on a month-to-month basis. We do not accommodate short-term or furnished rentals.
What is included in the rent?
Integrated Bosch appliance package, including side-by-side front-loading washer and dryer
Access to 15,000+ square feet of private amenities, including a state-of-the-art fitness facility
Professional on-site management
Full-time concierge
24-hour security
6 months free storage *Ask for details
Water (hot/cold)
No move-in/move-out fees
What is the tenant responsible for?
BC Hydro (electricity)
Tenant Insurance
Cable / Internet *Tenants recieve a 40% discount off monthly services with TELUS
Additional Questions
Our team is here to help make the process of selecting your new home as seamless as possible. Call, text, email or bring your questions to your in-person appointment. We are always happy to help.
We look forward to meeting you.